Again, Buhari Holds Security Meeting With Service Chiefs
Written by darling on May 11, 2021
President Muhammad Buhari has continued his meeting with the country's security chiefs, in search of solutions to the security challenges that have bedevilled the country.
Tuesday's meeting, the third in less than three weeks, continues a series of meeting which started on Friday, April 30 as violence and kidnappings continue to rock parts of the country.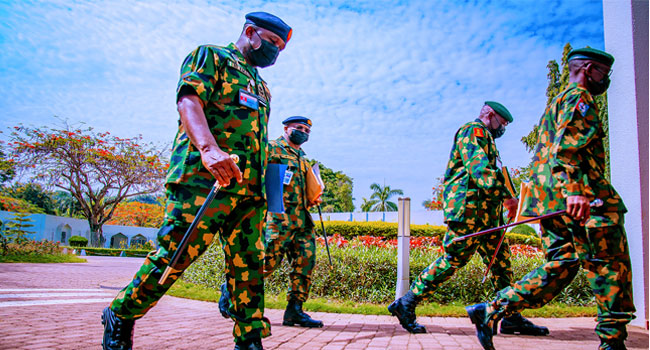 As with previous meetings, the latest is being held behind closed doors, and it remains unclear the details of the discussions beyond the drive to secure the nation.
Beyond the President and the security chiefs, the meeting was attended by Vice President Yemi Osinbajo, Secretary to the Government of the Federation, Boss Mustapha, and Chief of Staff to the President, Professor Ibrahim Gambari.
Security Concerns, Calls For Unity
Over the past three weeks, the security challenges that have led to the recent change of the service chiefs and the security meetings have continued. In the South, security formations and police stations have been attacked and operatives have battled kidnappers, gunmen, bandits, and suspected members of the Indigenous People of Biafra (IPOB).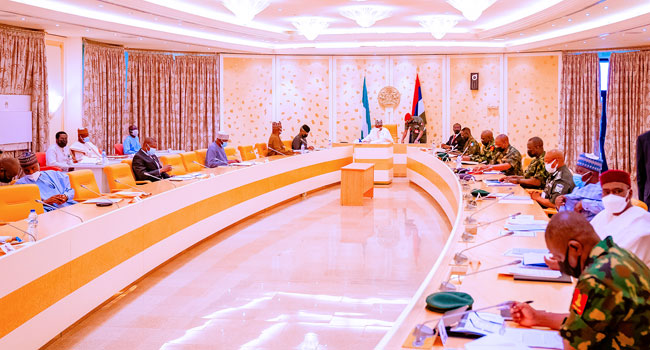 In the north, bandits have continued their reign of terror attack in villages and kidnapping people for ransom.
The security agencies and government has also recorded wins with the release of abducted students in Kaduna, Benue, and Asia while several bandits have been killed and some leaders arrested.
Although the details of the security meetings have been kept under wraps, both the President and his vice have called for unity and an end to the violence.
President Buhari last week lamented that despite the closure of the borders to control the smuggling of arms and ammunition, "Some people are mercilessly against this country."
He charged the leadership at every level to go back to the basics, noting that a bottom-up approach was necessary, from ward to local council, states, and federal.
Osinbajo in a wake-up call on the elites in the country urged them to rise up and speak the truth against forces of division in the country.
He explained that this has become necessary to preserve the unity of the nation as Nigeria cannot afford a war.
"We cannot afford a war in this country … it is the political elite that will determine what will take place," the Vice President said.
See more photos from the meeting below…
---
Reader's opinions
---